JFounders Guiding Lights
Success at the level we strive for in this program is driven
by these principles keeping us focused on creating positive change in this world.
Creativity is not something you learn. It is something you unleash as it exists in every one of us. This is where we begin.
The lens of innovation in which we view our future is rooted in thousands of years of Jewish thought and divine wisdom.
The miracle that is Israel, our nation, is, among many things, a story of innovation compelled to make the world a better place.
Whether it is because we have experienced the world's silence or understand our role as a light unto the nations, Jews can't remain indifferent.
Gain The Skills and Support To Change The World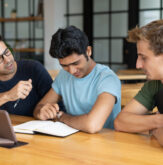 Connecting young people who wish to change the world of tomorrow with adults making a real impact today is central to this program. Mentors are carefully selected, and matched with a group of students known as "Design Teams" to help guide and support them throughout each stage of the design process.
The program is not solely an academic or philosophical pursuit but results-oriented. Each Design Team will produce a final product, which will include a detailed plan and prototype to be realized as a full-scale initiative or product. The program culminates with a product pitch and a graduation ceremony where top ideas will receive funding to pilot and scale.
The program begins with an intensive workshop on innovative design and social entrepreneurship, followed by eight Design Labs where they learn from "specialists" and work closely with their mentor on designing their idea forward. The program ends with a final pitch event.
Throughout the process, students will learn in-depth about innovation, Israeli Start-Up Case Studies, and Jewish values of entrepreneurial and social leadership. They will be utilizing a custom curriculum designed for the academically accelerated high school student, and upon passing the final assessment, will receive a certificate of completion. We are also in the process of seeking and securing college credit for the program.
LOCATION: KYHS 20900 Ruth and Baron Colem Blvd, Boca Raton, FL 33428
All Design Labs are from 6pm-8pm and the Design Workshop is from 10am-2pm.
The Pitch Event is from 6pm-8pm.
Design Workshop: Sunday: 12/11/22
Design Lab #1: Tuesday: 12/13/22
Design Lab #2: Tuesday: 1/17/23
Design Lab #3: Tuesday: 1/31/23
Design Lab #4: Tuesday: 2/7/23
Design Lab #5: Tuesday: 2/21/23
Design Lab #6: Tuesday: 3/14/23
Design Lab #7: Tuesday: 3/28/23
Design Lab #8: Thursday: 4/20/23
Pitch Event: Sunday: 4/30/23
Please note that dates and times are subject to change, and we will do our
best to give as much advance notice if there are any changes.
FROM COHORT ONE APPLICATIONS
"I would like to work on helping world hunger. We are blessed to live in homes and communities with an abundance of food, but if we drive a few miles away, situations are very different."
"I believe that the world needs to improve on being kinder to each other and to have less hatred in the world that we live in. Since we, the young teens of the world, have the power to change how the world is, it is important to stress the significance of spreading kindness and positivity."
"I think we need to improve honesty from our leaders, accountability, and try to end fake or politicized news from mainstream media."
APPLICATION FOR COHORT #1 IS CLOSED.
If you have any questions or are interested in joining a future cohort sent us an email below and we will let you know when the application opens.